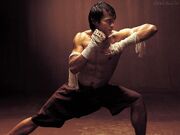 An Elbow Strike is a strike made with either the point of the elbow or the part of the humerus or ulna closest to the joint. Elbows can be used upwards, downwards, to the side (similar to a hook), or as a straight jab; they can also be used to strike targets in front of, to the side of or behind the practitioner. They can be devastating in close-range combat, and for this reason are banned from many competitions (some, however, still allow their use, such as Muay Thai and Ultimate Fighting Championship).
Due to their effectiveness, they are very common in traditional martial arts such as Wing Chun, hapkido, taekwondo, karate, and Silat, among others.
Ad blocker interference detected!
Wikia is a free-to-use site that makes money from advertising. We have a modified experience for viewers using ad blockers

Wikia is not accessible if you've made further modifications. Remove the custom ad blocker rule(s) and the page will load as expected.